From 26th Feb. to 1st Mar. 2017, MOU between Korea and Laos was signed in Vientien, Laos. During the period, visiting to SMC(Surveying and Mapping Center), spatial data infrastructure related consulting, technical workshop for cartographic project of Vientien and completion ceremony was conducted.
Korea(NGII) shared its experience of establishing a spatial information and discussed way of cooperation with Laos Ministry of Home Affairs and related organizations. Korea promised to support technical exchange, education, and following project for sustainable development.
In the future, discussion with related organizations for supporting following project and education support such as global training will be conducted.
With this MOU between Korea and Laos, various cooperation between two countries will be expected.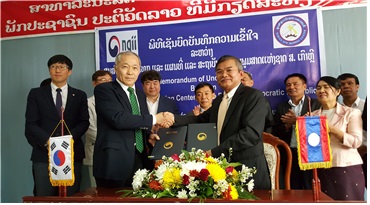 MOU between Korea-Laos