From 26-30 July 2016 at Astana in Kazakhstan and from 30 July-3 August 2016 in Moscow and Saint Petersburg in Russia, there were the second Eurasian SDI conference and joint workshop with Kazakhstan, and technical cooperation with Rosreestr and Russian Geographical Society.
On the conference, Korean experience and strategy of establishing SDI was shared with Eurasian countries and the way of future Eurasian SDI conference operation was discussed. Also, MOU for cooperation of Eurasian spatial information was expanded and the activity of WG was discussed.
On the workshop, the status of joint research with Zerde was introduced and the supporting method and future cooperation agenda for agreement of necessity of establishing SDI in Kazakhstan was discussed.
With Rosreestr and Russian Geographical Society, way of cooperation in spatial information and mapping was discussed and agreed to sign MOU.
On the Eastern Economic Forum, MOU for cooperation with Rosreestr was signed and supporting method for academic exchange between Korea-Russia was discussed.
In the future, based on Eurasian SDI conference, way to strategic advance of our spatial information will be organized, and Korean industry and academy activity will be supported as exchange with Russia has been expanded.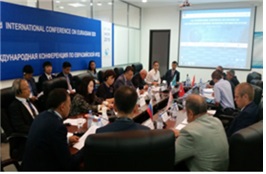 <2dn Eurasian SDI Conference>