On 8th October, Choe Byong-Nam, Director General of NGII, held 「Eurasia Spatial Information Infrastructure International Conference」participated by Eurasia's main 4 countries for creating synergy with regional spatial information and related industries.
Also, 20th UNRCC-AP and 4th UN-GGIM-AP, will be held in conjunction in Jeju Island.
Construction of Eurasian SDI is one of the Korea leading main task of 「Eurasia Initiative Roadmap」for activating trade and investment with Eurasia. It will support the construction of regional spatial information and capacity building for Kazakhstan, Mongolia, Uzbekistan and Kyrgyzstan, which are the main cooperating countries, and plan to implement medium and long term integration of spatial information infrastructures in Eurasia.
For 「Realizing one Eurasia Initiative」by establishing integrated spatial information infrastructure, the representative of each countries signed MOU for the sustainable cooperation and discuss "National Spatial Information Policy and Integration Strategy".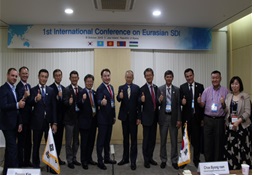 <1st Eurasia SDI Conference>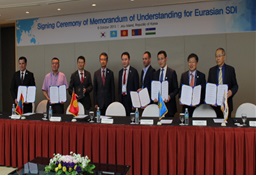 <MOU Signing Ceremony (5 states)>