From 5th of October 2015 to 10th of October, NGII hold the 20th UNRCC-AP and the 4th UN-GGIM-AP Plenary meeting, which is participated by representatives of 34 UN member states and relevant people from member states was held in Jeju island, Republic of Korea. The conference consists of various technical workshops- modern spatial information, cartographic, status of Korea Spatial Data Infrastructure, and working group-UN-GGIM GGRF WG, UN-GGIM NIA WG.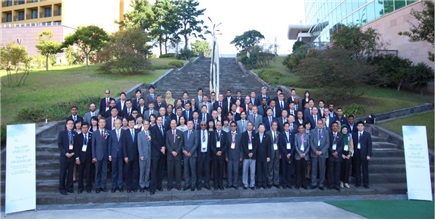 The 20th UNRCC-AP & 4th UN-GGIM-AP Plenary Meeting
At the 20th UNRCC-AP Plenary meeting, under the topic of 'Spatial Information for Global Development Agenda', position reference, disaster reduction, regional spatial data infrastructure(SDI), and land management was discussed. As a co-vice president, Korea leaded the session meeting on " Global Development Agenda from the Regional and National Point of View" and participated presentation and discussion for sharing its experience.
At the 4th UN-GGIM-AP, the status of the Working Group was reported and the implementation of UNRCC-AP resolution and the election of the member of the council of the UN-GGIM-AP and selection of Working Group chairman and vice-chairman was discussed.
From the successful 4th UN-GGIM-AP Plenary meeting, the international image of the Natoinal Geographic Information Institute will be raised. Especially by selecting as chairman and vice-chairman at the UN-GGIM-AP WGs, Korea can improve its external image. Also, through the exhibition booth, it can expand the opportunity for its corporate in overseas by introducing its various measuring and spatial information technology. Establishing various national and personal network and cooperation system is also expected.

The 4th UN-GGIM-AP Plenary Meeting